Boom from the Gloom
Posted on 9 March 2020
As cray fisherman empty their pots back into the sea, hunting octopus in the Abrolhos is a new frontier.
By John Lethlean, March 5, 2020
THE AUSTRALIAN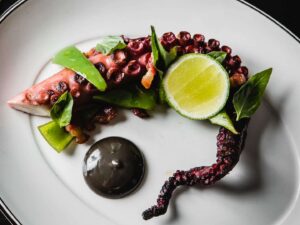 Abrolhos Island roast octopus with crisp pancetta, green peppers, basil and black garlic from Gowings & Bar Grill in Sydney.
"Sam knew, as anybody will know, that when you wake up on a summer morning 50 miles out to sea on an island made entirely of birdshit and fag ends, where only yesterday the rubber-shod foot of a Japanese soldier was washed up, and you turn in your bed and smell your dead father right beside you, that then you know the Shifty Shadow of God is lurking."
The Abrolhos; Geraldton: placenames that will mean different things to different people, yet it's a fair bet many first found them between the covers of Cloudstreet, Tim Winton's 1991 breakthrough novel. The hapless Sam Pickles losing his fingers in an accident mining guano on one of the many islands of the Abrolhos group; the town where his family leads a fairly desperate, faintly immoral existence in the upstairs rooms of uncle Joel's Geraldton pub, The Eurythmic.
"When this town didn't smell of salt," Pickles's wife, Dolly, reflects early in the piece "it smelt of phosphate and wheat and rotting crayfish." The setting is more than 70 years ago, the tail-end of World War II, both grim yet brimming with the naivety of youth.
It's about as close as many will ever get to the Western outpost.
Today, Geraldton is the home base for Australia's largest lobster fishery and the name Abrolhos attached to any kind of seafood confers status and a premium. All across the country, seafood carrying the island group's brand is highly favoured by chefs, and when you see the extensive series of "birdshit islands" and lagoons from the air, the aqua pools sparkling to reveal rays, sharks and dolphins, it's easy to understand why.
But there's a strange mood in town as we fly into Geraldton, about 45 minutes in a small commercial jet from Perth. No fire, no flood but a crisis, nonetheless, and the mood around town is sombre.
"Crayfishing is a nervous industry right now," says my host, Dom O'Callaghan, "and crays drive the town."
The coronavirus epidemic has all but killed demand from the Chinese crayfish market, and China is the major buyer in Western Australia's $500m industry, taking about 98 per cent of the annual 6615 tonne catch.
At the time of our visit, the Geraldton Fishermen's Co-operative has stopped buying crays — more correctly, western rock lobster — altogether and put prices at zero dollars a kilogram. Fishermen are emptying their pots back into the sea. Fortunately, O'Callaghan and business partner, Adrian Hobbs, are not in crays.
Where there is an abundance of western rock lobster, there is also likely to be an abundance of octopus tetricus — gloomy octopus — probably the world's best eating cephalopod.
This pair of businessmen have set out to make the desperate island group's name synonymous with an ironically luxury seafood product, for it was only a generation back the occy was merely the foodstuff of immigrants.
They run and operate Abrolhos Octopus, a company that sources the vast majority of its catch from the waters around this group of flat, featureless islands and lagoons about 90km offshore, in the Indian Ocean, from Geraldton.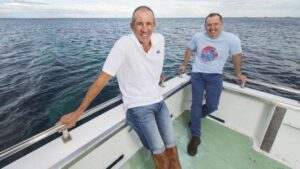 Octopus fisherman Adrian Hobbs and Dom O'Callaghan from Abrolhos Octopus. Picture: Ross Swanborough
Sustainable seafood
The relatively new business got a significant shot in the arm last year when the international Marine Stewardship Council certified the Western Australian Octopus Fishery as sustainable, only the second octopus fishery in the world to get the rubber stamp of approval from the MSC.
It gives the octopus fishermen and processors of WA a unique selling proposition; it means they supply 80 per cent of the world's MSC-certified octopus and 100 per cent of the preferred — local — species carrying that powerful imprimatur.
Spain has the only other MSC-certified fishery, in Asturias on northwest Spain's Atlantic coast, the first octopus fishery to be MSC-recognised as sustainable; last year it produced 78 tonnes of the lesser common octopus (octopus vulgaris) species.
But we are talking a drop in the ocean. The annual octopus harvest worldwide is 420,000 tonnes.
Anecdotally, during the past two years WA octopus has gone mainstream with chefs on the eastern seaboard, and the Abrolhos guys figure there's room for them and room for growth in this wildcaught seafood sector.
They are giving it a serious crack; they have invested in licences, traps, boats and processing facilities, many millions of dollars.
"General confusion reigns as to which seafood does or doesn't represent sustainable, local or organic production," seafood marketer and author John Susman says.
"The simple octopus ticks every box — fast growing, with a short life cycle, a prolific breeder with zero bycatch. Large octopus, especially those from Western Australia, taste like lobster because that's what they eat."
Hunting occy
But just how is octopus commercially harvested? Turns out there's not a lot to it, which O'Callaghan says is integral to the beauty of the product: minimal handling.
The key is in the traps; AO bought the patent on its clever polyethylene traps when the business began and is nowhere near its license capacity to harvest or its processing potential.
Three traps are joined within a steel frame to create a "pot"; each trap has a little tuna burley sack and an artificial crab lure inside. Importantly, each pot has a single line with "whale weights" and a surface buoy; this prevents entanglement with the whales so common on this coast, but many licence-holders still use longlines, says O'Callaghan, with many pots connected, a significant hazard for the big mammals. The pots are set — there is no rule about depth, time or location, it's more intuitive than that says our skipper, seasoned Geraldton fisherman Simon Bryant — and retrieved within a few days.
We set off from Geraldton's port in a purpose-built commercial cray boat; the requirements for both styles of fishing are almost identical. A vast aft deck and winches for pulling up the pots, with big plastic tanks filled with a slurry of filtered ice and seawater for the prized tentacles.
The only freshwater the octopus sees is sprayed into the trap as a mist, which irritates the octopus to slither out. What follows is swift and humane: the mollusc is brain-spiked, a technique called ikejime, in much the same way prize eating fish are, to ensure rapid death and preserve the quality of the flesh. The head is cut off and discarded in a bin, and the edible part of the animal is put into the slurry.
It's that simple.
Our skipper tells us he'll head out again that night and stay out several days, sleeping, with his crew of two deckhands, in a hut owned by the company among the islands' southern group. It's a hard life but the more octopus they take, the more money they make. And they are nowhere near quota.
Fair game
Back on shore at AO's processing facility, the operation is again simplicity itself: the tentacles are rinsed in another saline slurry, portioned, vacuum-packed and frozen. The freezing helps tenderise the protein, we're told.
Hobbs, a chartered accountant by profession who has worked in seafood businesses around the world, credits the WA Department of Fisheries for achieving the MSC milestone, "and we obviously play by the rules", he says.
"None of our vessels and crew are doing anything vaguely to jeopardise the fishery," Hobbs says.
"Throwing back smaller occy, making sure there is no bycatch, making sure all ropes and floats have appropriate measures to avoid any whale entanglement are the obvious measures.
"Ultimately (the fishery) will become … quota managed but at this stage, based on the scientific data we have, the industry is taking out probably less than half what it could on a conservative, sustainable basis."
The product has achieved significant penetration in the Perth restaurant market; the east coast is the holy grail as a springboard to export. "I investigated quite a few fishing industries to invest in and most were fairly mature," the South Africa-born Hobbs says, "and it was difficult to acquire a meaningful stake with room to grow … I started to investigate this 'new' octopus fishery; I believed it ticked quite a few boxes."
'Octopus is all we do'
O'Callaghan came from a completely different business background but, equally, saw investing in an under-exploited octopus fishery based around the Abrolhos waters as a major opportunity.
"More and more chefs and consumers are asking whether seafood is sustainably sourced," he says. "(And) the commercial reality is that wild-caught sustainable seafood commands a significant premium in local and exports markets."
Like Hobbs, O'Callaghan is on a journey with a radical learning curve. "Research suggests octopus are 10 to 15 times more sensitive than fin fish — catching to processing — and temperature variations and therefore our systems, procedures and controls are tailored specifically to octopus. Octopus is all we do."
Back on shore, at a delightful local cafe cum bistro, Salt Dish, we eat some expertly poached, then charred, Abrolhos Octopus.
Point taken.
As newcomers (Fremantle Octopus is the dominant industry player, fishing from a different zone) Hobbs and O'Callaghan are only a few years into their venture but already there are signs to inspire. A Gordon Ramsay restaurant in London has their product on its menu and the duo is pushing hard to present itself as a viable alternative to existing suppliers.
The mystique of the Abrolhos name cannot hurt.
John Lethlean
Food Writer
Melbourne
John Lethlean is Australia's only national restaurant critic. A journalist by trade, John has written fulltime about restaurants, food and the people involved with this exciting landscape since 1996.